Profile
The DK Climate Change is an international programme at the University of Graz for outstanding doctoral students.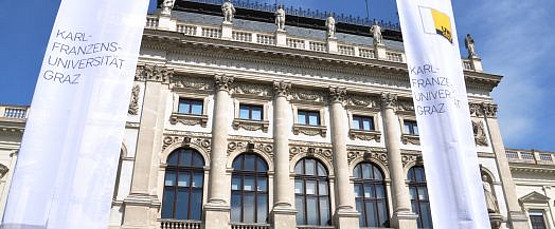 Making a difference. The DK Climate Change (DKCC) is an international programme at the University of Graz for outstanding doctoral students in the area of climate change. The PhD programme is characterized by innovative training with a special focus on interdisciplinarity. It makes a difference by building a scientific community with a shared understanding of the challenges of climate change and by reaching out to societal stakeholders. The DKCC thus educates a new generation of excellent researchers and contributes to societal transformation.
Strategies for transition. Anthropogenic climate change is one of the main societal challenges in the 21st century. It raises profound social, ethical and political questions that cannot be answered within a single discipline. Coping with current and future climate change requires mitigation, adaptation and compensation strategies that aim at transformational changes. The DKCC attempts to reach a better understanding of climate change uncertainties, risks and options for human action, in particular regarding critical thresholds, which may threaten the continuity of social and ecological systems. The researchers investigate strategies for the transition towards a low-carbon and climate-robust economy and society, which involve a fundamental transformation of economic, social, political and legal processes.
The training programme. In DKCC phase 2 (2018-2022) the programme offers 21 PhD positions in an excellent research environment in Graz. The training programme is characterized by a high level of interdisciplinarity and sets a best-practice example of co-supervision. The doctoral students are trained to become independent researchers who are educated both as disciplinary experts and accomplished at conducting interdisciplinary research. A mentor supports the students in pursuing professional and personal goals. Further training is provided in skills vital for research management and outreach, such as organization and networking as well as science communication. The DKCC's research is organized in three research groups that create synergies through collaborative work. The aim is to foster joint publications and produce outputs that are relevant for different actor groups.
Added value in doctoral education. The DKCC structured programme creates added value for the involved institutes and benefits the University of Graz. It systematically connects the five faculties involved and raises the level of doctoral education. The interdisciplinary approach of the DKCC is reflected in not only the different disciplines involved – physical climate science, geoscience, climate and environmental economics, innovation and sustainability research, normative theory, and environmental law – but also the extensive research experience of the faculty members in international networks. In addition, the DKCC Scientific Advisory Board provides high-level feedback about the quality of DKCC research on a regular basis.
The importance of networks. International research environments provide new impulses, styles and approaches. Students are empowered to go on international research stays to promote their professional careers. Furthermore, national and international experts are regularly invited to give guest lectures. The DKCC Stakeholder Board strengthens the exchange of the doctoral researchers with practitioners and provides critical insights into the relevance of DKCC research results.
The Doctoral Programme Climate Change is funded by the Austrian Science Fund. Further funds are provided by the University of Graz and the Federal State of Styria.
Contact
Speaker
Univ.-Prof. Dr.
Lukas
Meyer
Contact
Coordination
Glacisstraße 27/I
8010 Graz
Dr.
Ali Emre
Benli
Contact
Office Management
Glacisstraße 27/I
8010 Graz
Mag.
Karin
Osibow